On a typical hot, steamy night in our swamp, I woke up to find that Teddy had transmogrified into Shrek, snoring as only an ogre can.  My industrial strength ear plugs had fallen out so I sleepily tread the well-worn path to the front bedroom at the other side of our hovel.  I fell asleep almost immediately only to wake in the wee hours needing to use the bathroom.  The toilet tissue was running low so I blithely reached into the cabinet under the sink to get a new roll.  Then I saw her, screamed and gently shut the door.  She looked at me with the same horror.  Yes, her eyes were that big.  It was my first tree roach of the season.  Let's call her Teresita.
For those of you who don't live in the south of Texas, we have something much scarier than our alligators, water moccasins and recluse spiders.  My fear was such that it may as well have been a Dire Wolf, most recently of Game of Thrones, but actually an extinct giant wolf.  Tree roaches are really large roaches that FLY!  If you do a Google search for Tree Roaches Texas you will find endless hilarious stories of newcomers who firstly can't believe the size of the critters (mine was about 2 inches long) and then their horror when the beast flew towards them.  Their true name is the American Cockroach and they are not quite as filthy as German Cockroaches, the regular smaller ones that you see up north. Ours wear MAGA hats. In Florida they call tree roaches Palmetto bugs as a way to fancy them up.
I went back to bed with trepidation because the last time I found a tree roach it was under my pillow (shudder) in that front bedroom.  The wisest action was not to look and I fell into a troubled sleep.  The next morning, I started removing everything from the bathroom cabinet.  There was mouse sized Tree Roach poop everywhere!  Just as I removed the 12th toilet roll (it is hurricane season and we are fully stocked), the monster jumped out at me.  I screamed again but was mad as hell that it had pooped all over everything so I attempted to crush her.  She scuttled back into a hole behind the cabinet or should I say Cockroach Condo.  Dang it!
This is not my hand!
Eventually I emptied everything and washed the plastic bottles in bleach, the rest went in the trash.  The inside of the cabinet was cleaned with neat bleach and then I found the deadly bug killer to spray in the hole.  Usually I use a completely ineffective 'green' bug spray that a Tree Roach would use for salad dressing.  I like to live in harmony with all God's creatures but the roaches have to stay outside.  Then I called the bug man – who is afraid of Tree Roaches.  Now that's exposure therapy.  His favorite Macho tale is when he first encountered Tree Roaches on a military base.  He was in a storage shed and he saw three Tree Roaches blocking the doorway.  'No problem', he thought, 'I can just stomp on them'.  Not if they fly in your face – then you run out screaming like a girl.
I considered calling the bug man earlier when we had a millipede invasion all over the larger Houston area.  Every day I rescued or swept up dozens of millipedes.  They are harmless and don't scare me so I just ignored them.  Maybe all the rainy weather has created a glut of them.  When they die, they curl up in a little ball and it looked like a fossil extinction zone in every corner of the house.  The spiders tried their best to help me out and every web was filled with millipedes.  When you live in Texas you need to love your spiders because they catch the other stuff!  The Dire Wolf under the sink provoked a spring cleaning like none other.  Then I discovered another dead tree roach in a kitchen cabinet so all the pots had to be washed.
Working my way around the kitchen cabinets, I finally found sugar ants had got into the sugar.  Really??  Don't you think I had been through enough?  My O.C.D. was boiling into a crazy ferment.  Sugar ants are harmless too but it was three species too many.  The hovel house is now very, very clean and there are no bugs.  It was a rather expensive visit from the Dire Wolf (and friends) by the time I paid the bug man and restocked the toilet rolls, tissue, cotton wool and sugar.  One of my neighbors had a blue tongued Skink living in her garage – they look like truncated snakes with very wide bodies.  She was horrified that its poop had cockroach carapaces in it.  Please come and live with me, blue tongued Skink – free food and friendly humans.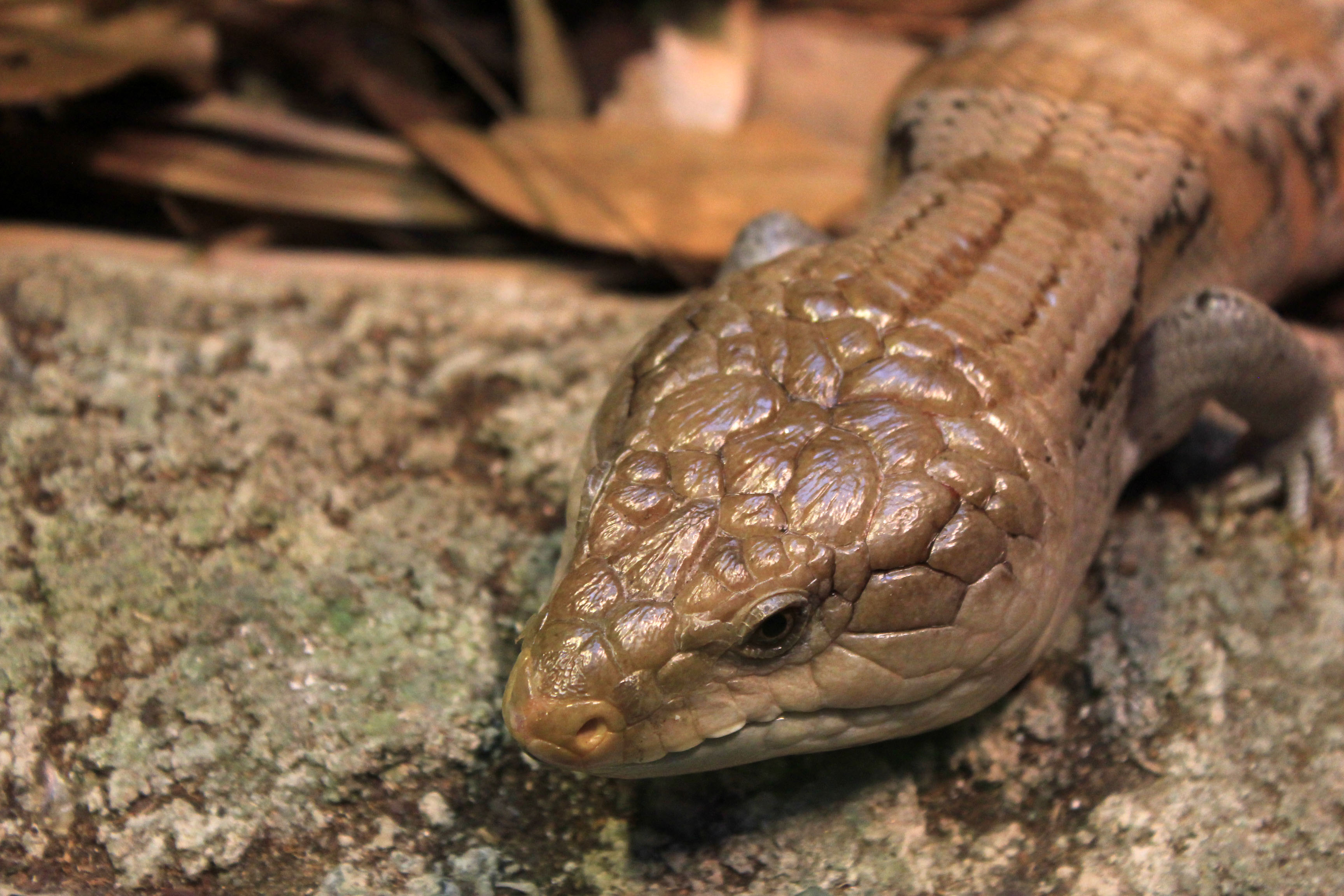 Blue Tongued Skink